Kingsview Dental

Discover the Difference in
Your Dental Experience

Welcome New Patients!
Start Your Journey to Exceptional Dental Care with Us.
Hassle-Free Insurance Billing
Let Us Handle the Insurance Billing Process for You.
Emergency Dental Care
Same-Day Appointments are Available.
Finance Made Easy
Instant 0% Financing Available at Kingsview Dental.
Kingsview Dental
Comprehensive Dental Services for a Healthy and Beautiful Smile
Dr. Kinjal Patel, a leading dentist at Kingsview Dental , is passionate about providing exceptional dental care and building lasting relationships with her patients and their families.
With a patient-centered approach, Dr. Patel designs treatment plans that prioritize comprehensive dental health, emphasizing prevention and education from an early age, starting with children as young as 1.
When you choose Dr. Patel as your family dentist, you can trust that your dental health is in capable hands. Experience personalized care and a lifelong commitment to your oral well-being at Kingsview Dental Airdrie.
● Airdrie's Best Dental Clinic
Discover the Difference at Kingsview Dental
Radiant Smiles Never Go Out of Style. At Kingsview Dental Airdrie, we are committed to helping you maintain your beauty and oral health throughout your life. With our comprehensive and efficient range of services, located at the Kingsview Market in Airdrie SE, your smile is in trusted hands.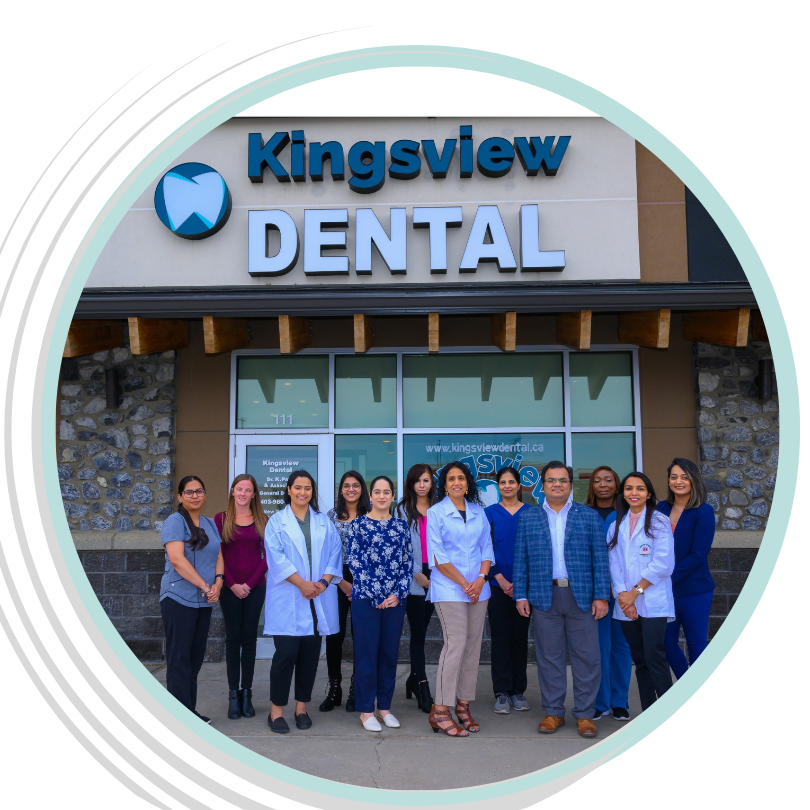 Meet the Skilled Professionals Behind Kingsview Dental's Outstanding Care
What our Patients say about us
Bernadette Villareal
19. August, 2023
Very professional in dealing with patients and staffs are friendly.
Rehana H
16. August, 2023
I have been to this clinic for few months and I am emmensely happy to be there.
Marie Lovasz
14. August, 2023
All the staff are very friendly make you feel welcome, had 4 fillings they go slow and are patient! Love that we changed to this dentist
A Arshad
12. August, 2023
Highly recommend for anyone looking for a new dental clinic. When booking an appointment their service was quick and easy over the phone. The ladies at the front desk are very professional and take the time to answer any questions. The dental hygienists and the dentist are also very friendly and explain the procedure very thoroughly.
marianne white
11. August, 2023
Great team, honest staff, great service.
Rut Castillo
11. August, 2023
I have been coming to this particular dental office since moving to Airdrie and have been thoroughly impressed. From the helpful front desk staff, fantastic hygiene team (especially Akhtar Uzzaman), and the great dentists on their roster (Dr. Dalvinder Saran has been amazing with my children), I could not be more pleased. Thank you so much!
pavithra H
5. August, 2023
This is my second visit to kingsview dental. Akhtar Uzzaman, did an excellent job in cleaning my teeth. It might have been the best cleaning I've ever had . Highly recommended for others to visit this place for dental work.
Mary Ann Pineda
4. August, 2023
Dr. Saran did amazing job. Very friendly and accommodating staffs. Highly recommended.
Unit # 111 1800 Market St. SE Airdrie, AB T4A 0K9